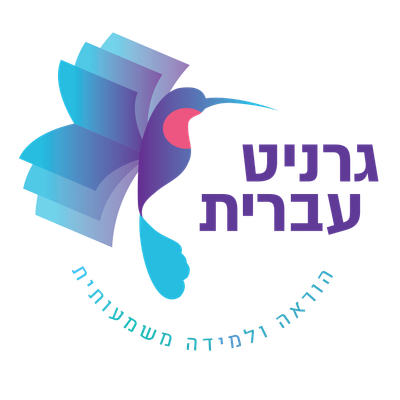 Ketty Granite wrote and developed the Granite Ivrit Hebrew curriculum for students in grades 2-8. The Granite Ivrit curriculum is based on the Proficiency approach, the Communicative Language Teaching approach, and the ACTFL benchmarks. The program is offered to Novice to Intermediate levels. Granite Ivrit focuses on the three modes of communication while providing students with the opportunity to learn the language through different modalities as well as meaningful and hands-on activities, making the learning fun and relevant. Students learn all language skills and cultural aspects of Hebrew and Israel through authentic materials and activities while developing high-order thinking and collaboration skills.
Ketty Granite is an educator, speaker, and trainer, with vast experience in the field of teaching Hebrew as a second language. Ketty serves as an MA courses instructor at Middlebury College, Vermont, an instructor at the teacher education program for in-service teachers and a courses developer and a writer for the master of arts degree at Universidad Hebraica, Mexico on the subject of second language acquisition. In addition, Ketty serves as an academic adviser and mentors Hebrew teachers, coordinators, principals and administrators. She provides face-to-face and online webinars in pedagogy and second language acquisition.
Currently, Ketty is a candidate in the Doctor of Modern Languages (DML) degree program at Middlebury College. She has a Master's degree in Educational Management from the Hebrew University in Jerusalem, and a second Master's degree in Teaching Hebrew as a Second Language and Israeli Culture from Middlebury College.