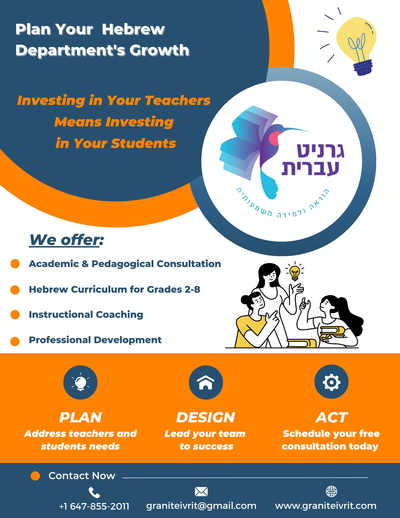 Investing in Your Teachers Means Investing in Your StudentsWe offer:
Academic & Pedagogical Consultation
Hebrew Curriculum for Grades 2-8
Instructional Coaching
Professional Development
Here are some examples you can consider:
Teaching Hebrew as a second language within the Proficiency Approach and ACTFL proficiency guidelines framework – from theory to practice.
From input to output - how to plan a good lesson?
Learner autonomy in the second language classroom - What, Why and How?
Let's talk: How to promote oral communication skills among second language learners?
Let's read: How to promote accuracy, fluency and understanding of reading skills among second language learners? Practical
Let's listen: How to promote listening skills among second language learning?
Let's write: How to promote writing skills among second language learning?
Let's be practical: sharing best practices when we teach SLA.
Assessment and evaluation tools - Why? When? Who? What? How?
Why and how to teach culture and authentic materials and tasks when teaching a second language? From theory to practice.
Differentiate teaching in the Second language classroom.
Using Israeli art to enrich the learning opportunities.
Special workshops can be tailored to your needs.
To learn more, contact us today to plan your Hebrew curriculum, next PD or coaching sessions!